Time to find some new outfits because fall fundraising season is officially here. From galas in the garden to design awards, attending these events are a great way to support your favorite art organization. We know your calendar is already packed, so we've compiled a list of our 21 favorite parties and galas you won't want to miss.
1. Baryshnikov Arts Center's Fall Fête, October 2
BAC's annual Fall Fête will take place on Monday, October 2, 2017 at Baryshnikov Arts Center. The intimate event will raise funds to support performances and residencies year-round. The program will feature a N.Y. Premiere from Israel's Roy Assaf Dance and the N.Y. Premiere of Julia Wolfe's Retrieve, commissioned through BAC's inaugural Cage Cunningham Fellowship. The evening will include an art auction powered by Paddle8.
Baryshnikov Arts Center, 450 W. 37th St, NYC. Purchase tickets.
2. Rubin Museum Gala & After Party, October 5
This year's Rubin Museum gala will take place at Cipriani 25. The gala will be honoring Ila Paliwal & Dinesh Paliwal, President & CEO of HARMAN. Inspired by the Rubin's latest exhibition The World Is Sound, the evening will feature a cocktail reception, seated dinner, silent auction, and a sensory experience that will inspire you to listen with your whole self. Guests will be part of an interactive experiment about the mapping of color and sound, featuring neuroscientist Dr. Beau Lotto and renowned cellist Maya Beiser.
Cipriani 25 Broadway, NYC. Purchase tickets
3. Gala in the Garden, October 8
An annual highlight of the Los Angeles cultural calendar, the Hammer Museum's Gala in the Garden celebrates the artists, innovators, and icons who have made profound contributions to society through their work. Their fifteenth annual Gala in the Garden will honor Ava DuVernay and Hilton Als.
Hammer Museum, 10899 Wilshire Blvd. Los Angeles, CA. More information
4. Take Home A Nude Art + Auction Party, October 11
The 26th annual "Take Home A Nude" auction benefiting the New York Academy of Art brings together over 750 guests from the worlds of media, fashion, business and the arts to raise scholarship funds for the Academy's roster of talented artists. Celebrity art collectors, enthusiasts, artists, and creatives alike will be joining the fun and honor artist John Alexander.
Sotheby's, 1334 York Ave, NYC. Purchase tickets
5. Storm King Art Center Annual Gala, October 18
Storm King Art Center will be taking over the Rainbow Room at Rockefeller Plaza on Tuesday, October 18th. Cocktails and dinner will once again be at the Rainbow Room. This year's gala and live auction will be honoring Joel Shapiro and the Ralph E. Ogden Foundation. There's even an after party.
Rainbow Room, 30 Rockefeller Plaza, NYC. Purchase tickets
6. Park Avenue Armory Gala, October 18
Each year Park Avenue Armory creates an immersive environment with entertaining artists and imaginative performances. The festivities will kick off at 6:30PM with performances starting at 7PM. You can look forward to a fantastic set design by Stefan Beckman and a performance by Kimbra.
Park Avenue Armory, 643 Park Avenue, NYC, Purchase tickets
7. National Design Awards Gala, October 19
The National Design Awards are bestowed each year at a benefit dinner and awards ceremony hosted by Cooper Hewitt. The annual benefit dinner is set for October 19th and to take place on the Arthur Ross terrace and garden at Cooper Hewitt. The evening honors lasting achievement in American design.
Cooper Hewitt, 2 East 91st Street, NYC. Purchase tickets.
8. Apollo Circle Benefit, October 19
The Metropolitan Museum of Art will toast to the 20th anniversary of The Apollo Circle. The annual black-tie event is hosted by young supporters of the Museum and proceeds will support conservation and scholarly research at The Met. Music by Matt FX and visuals by David Scher.
The Met, 1000 Fifth Avenue, NYC. Purchase tickets
9. National Arts Awards, October 23
Americans for the Arts is hosting their National Art Awards ceremony on October 23. Celebrating outstanding leadership in the visual and performing arts, arts education, and philanthropy, the National Arts Awards will be filled with familiar faces. The evening will honor Clive Davis, Thelma Golden, Gael Neeson and Stefan Edlis and more.
Cipriani 42 Street, 110 E 42nd St, NYC. Purchase tickets
10. El Museo del Barrio's Dia de Las Divas, October 26
Join El Museo del Barrio as they host Dia de las Divas, an annual Día de Los Muertos (Day of the Dead) fundraiser. This year's event is inspired by the brilliance and contributions of Latinas to the art world and our communities-at-large. Expect cocktails, bites and a performance by Princess Nokia.
El Museo del Barrio, 1230 5th Avenue, NYC. Purchase tickets
11. Sculpture Center Annual Benefit Gala, October 26
The SculptureCenter's Annual Benefit Gala will take place Thursday, October 26 at the Long Island City waterfront event space, Sound River Studios at Anable Basin. The evening will honor John Armleder and Charlotte Feng Ford. All proceeds go towards supporting SculptureCenter's programs, exhibitions, and commitment to contemporary art and artists.
Sound River Studios at Anable Basin, 4-40 44th Drive, Long Island City. Purchase tickets
12. Studio Museum Gala, October 30
Join The Studio Museum in Harlem's for its highly–anticipated fall Gala, a glamorous celebration among artists, philanthropists, corporate leaders and cultural luminaries over dinner, music and dancing. Support for Gala 2017 directly benefits The Studio Museum in Harlem's critically acclaimed exhibitions, innovative public programs and renowned Artist–in–Residence program. The evening will be honoring Sir David Adjaye OBE and Adjaye Associates.
Studio Museum, 144 West 125th Street, NYC. Purchase tickets
13. Performa Gala, November 1
The always much anticipated Performa gala will take place on November 1st and honor Yoko Ono and artist and Performa Trustee Wendy Fisher. The evening will of course feature drinks, dinner and spectacular performances. There is also an artist party to follow off-site.
Harlem Parish, 258 118th Street, NYC. Purchase tickets
 
14. LACMA 2017 Art+Film Gala, November 4
On Saturday, November 4, 2017, notables from the art, film, fashion, and entertainment industries will gather at LACMA for its seventh annual Art+Film Gala honoring acclaimed artist Mark Bradford and renowned award-winning filmmaker George Lucas. LACMA trustee Eva Chow and actor Leonardo DiCaprio will co-chair the event for the seventh consecutive year.
LACMA, 5905 Wilshire Blvd, Los Angeles, CA. Purchase tickets
15. RxArt Party, November 9
This year's RxArt Party will take place at the IAC Building and will be honor artist Dan Colen, President of Kiehl's Chris Salgardo.  RxArt will be celebrating 17 years of producing powerful projects with extraordinary artists in healthcare facilities nationwide.
IAC, 555 W. 18th Street NYC. Purchase tickets
16. The Whitney Art Party, November 14
The Whitney Museum is throwing their annual Art Party on November 14th. Hosted by the Whitney Contemporaries, the proceeds from the evening benefit the Independent Study Program and other education initiatives of the Whitney. The party is attended by young artists, fashionistas, and art supporters who typically dance the night away.
The Whitney Museum, 99 Gansevoort, NYC. Purchase tickets
17. Guggenheim International Gala, November 16
On November 15, HAIM will transform the iconic spiraling rotunda at the Guggenheim (or should we say GuggenHAIM) with powerful rhythms and harmony-rich vocals for the GIG Pre-Party. This one-night only-event launches the 2017 Guggenheim International Gala, is once again sponsored by Dior.
Guggenheim Museum, 1071 5th Ave, NYC. Purchase tickets
18. Legends Award Gala, November 16
The Legends Awards celebrate distinguished individuals and corporations in the world of art and design, whose accomplishments and values resonate with those of Pratt Institute. Guests will enjoy cocktails, dinner, auction and awards ceremony.
Mandarin Oriental, 80 Columbus Circle, NYC. Purchase tickets
19. American Folk Art Museum Gala, November 16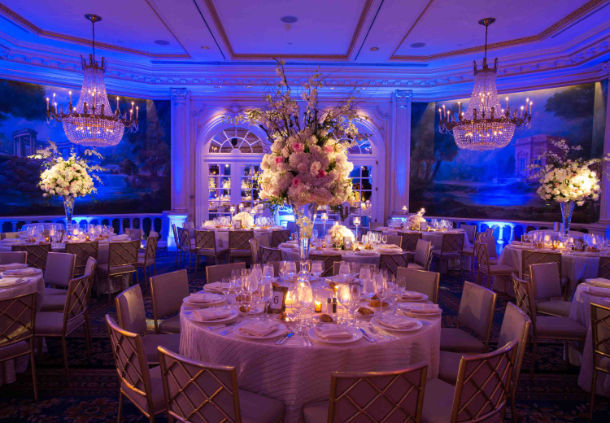 The annual Fall Benefit Gala provides a primary source of funding for the American Folk Art Museum and its acclaimed educational programs. The museum has a long-standing commitment to arts education and serves more than eight thousand New York City schoolchildren each year. This year's gala will honor Elizabeth and Irwin Warren Jill Soltau and Gail O. Mellow.
J.W. Marriott Essex House, 160 Central Park South. Purchase tickets
 20. ArtWalk NY, November 29
ARTWALK NY brings together hundreds of artists, art-lovers and other compassionate New Yorkers at this landmark event to celebrate the role of "artist-as-activist." This year, the event will honor artist Louise Fishman and Vincent and Shelly Fremont. The event raises awareness about the issues of homelessness, poverty and social justice.
Spring Studios, 50 Varick St, NYC. Purchase tickets
21. Central Park Conservancy's Belvedere Ball, December 6
The Belvedere Ball, formerly the Autumn in Central Park, will take place in a heated tent and will honor Douglas Blonsky, President & CEO of Central Park Conservancy and a Central Park Administrator. The evening will include cocktails, dinner, dancing and music by DJ Kiss.
Mid-Park at 72nd Street, Central Park. Purchase tickets
* Additions of October 16, 2017 1:17 PM EST
The Brooklyn Museum's Yes Gala, October 19
Rema Hort Mann Foundation Art Auction Benefit, November 16
2017 Artadia Benefit Auction, October 10
Did we miss one? Email us info@artzealous.com
---
top image // Hanna Hazel for Art Zealous